Happy Feves Collecting!!
I just love Feves!!
Click to Enlarge Feves Pics
09/03/2002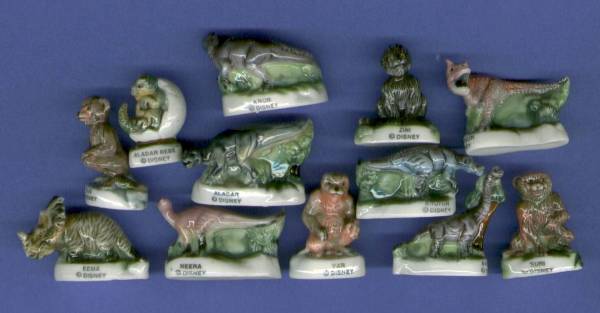 Welcome to my French Feves Collection!
Dinosaur Feves
Feves are very unusual, miniature porcelain solid cast (not hollow), mine are 1 1/2 inches and under tall, hand painted with nice color detailing, and especially made for the Epiphany French Tradition Celebration on Jan 6th. Once a year cakes are baked and a Feve, the new modern term, also called a bean and is baked into a special cake, King Cake. The one ending with the piece of cake with the bean baked in is King, Queen ? or just special.

Simpsons Set of 12
(Matt Groening) © TM & © 2000 Fox.. 24.00
Gramp Simpson, Homer Simpson, Barney Gumble, Bart Simpson, Chief Wiggum, Ned Planders, Marge Simpson, Lisa Simpson, Maggie Simpson, Krusty, Milhouse, and Mr. Burns

Lord Of The Rings Set of 9

© NLP, Inc.... 18.00
Frodo, Gandalf, Saroumane, Nazgul, Gimli, Legolas, Orc, Lurtz, and Arwen

Dinosaurs Set of 12

© Walt Disney.... 24.00
Carnotaur, Zini, Kron, Bruton, Aladar, Aladar Bebe, Plio, Suri, Baylene, Yar, Neera, Eema

The Sets I have are very hard to come by. If you want to trade sets that I don't have, Please Yes!!! and email me. I would love more Feves Sets. I currently have 4 sets Betty Boop not for trade, Simpsons, Lord Of The Rings, and Dino's.
postage 1 set or more up to 13 oz. USA priority 3.85 or 2.50 first class 1 set
I do combine postage for more sets and please email for international rates....
payment: paypal = debit card users, cash, check, or M.O.
Feves / Home / Wade Price List / mcgill5@yahoo.com